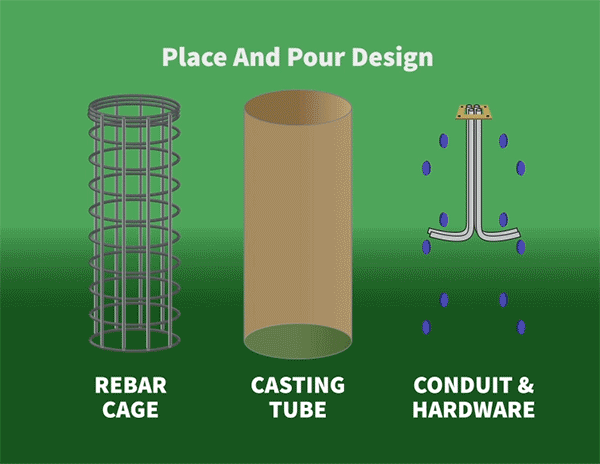 Our SiteCaster Kit combines:
• TUBE – sized to your specifications
• REBAR – welded for durability
• CONDUIT – for easy connections
• ALIGNMENT WHEELS – in place
All are combined into a single, structurally-sound, aligned, 170 lb unit for easy placement in your light pole location.
You simply PLACE & POUR
for light pole base installations!
THE GAME-CHANGER
Traditionally, there were few options for fast, efficient and safe light pole installation.
The old-school option involved building rebar cages from scratch, aligning conduit in tube, and attaching bolts – all in confined space or outside. This was a very time-consuming and difficult process.
The second option is to install precast light  pole bases. This process involves heavy machinery for placing the 4000+lb precast base, extra cost in hauling, and carries with it additional safety challenges.
Now there's SiteCaster™!
COMPONENTS & OPTIONS
• Made in the USA
• 100% recycled
• Tubes are wax coated for site durability
• Installed & backfilled before pour
• Rebar is grade 60-A706
• 24″ x 96″ kit weighs 170 pounds
• Various conduit configurations available
• Kit sizes available up to 12′
• Diameters available: 8″, 10″, 12″, 18″, 24″, 30″, 36″
Custom sizes and configurations for SiteCaster™ are available!